The ability to have verbal coaching while driving helps identify bad driving habits and eliminate complacency behind the wheel, which has shown to improve any driver's behavior. – Safety Director, Complete Energy Services
Anyone involved in the oil and gas sector is aware of the safety challenges the industry is facing. With road accidents topping the list of fatality causes in oil and gas, understanding how telematics can incorporate in vehicles to help improve safety and minimize road crashes is a hot topic for operators. The ORBCOMM team is looking forward to attending Gastech this month and sharing its in-depth knowledge of fleet safety in oil and gas.
Leading the global gas, LNG, and energy industry, Gastech has 45 years of experience in the market. The conference features some of the world's leading industry speakers and an exhibit that will host over 35,000 industry professionals from 30 different sectors.
What Will I Hear from ORBCOMM at Gastech?
In recent years we have seen an increase in oilfield fatalities. In the 22 Permian Area counties, there was a 46% increase in road fatalities between 2017 and 2018. While it's clear that oilfield driving brings its hazards, it's estimated that 90% of these accidents are caused by driver behavior. By utilizing a system designed especially for the needs of the industry, fleets can look forward to seeing:
Actual oilfield fleet safety improvements after 90 days.
90% Reduction in Accidents
89% Reduction in Aggressive Driving
86% Reduction in Speeding
88% Reduction in Seat Belt Violations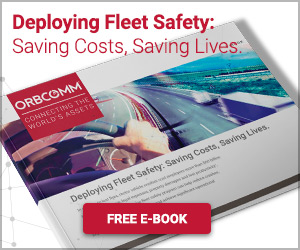 Enhancing Fleet Safety
Purpose-built for the oil and gas industry, our fleet safety solution minimizes the risk of crashes, reduces costs and ensures compliance with the ELD mandate. Our solution is registered and meets all the guidelines of the FMCSA.
From the unrelenting heat of Texas to the tundra of Alaska, major companies trust our ruggedized solution for fleet operations.
ORBCOMM improves oil and gas fleet safety via:
Verbal Driver Coaching: Deliver real-time alerts for speeding or aggressive driving.
Seat-belt Alerts: Alert drivers and managers if a seatbelt is not in use.
Speed-by-Street: Compare vehicle speeds with post limits.
Crash Detection: Get an instant notification if a vehicle has been involved in a crash.
Driver Scorecards: Use the information to reward drivers with good records and identify those that need further training.
Compliance: Ensure your fleet is compliant with hours of service rules with ORBCOMM's ELD.
And much more…
ORBCOMM will be at Gastech Exhibition and Conference in Houston, Texas 17-19 September 2019. Visit the team at SME Zone, Booth U80E.