As we face into another week of a disrupted COVID-19 world, we wanted to provide the latest news to help keep you up to date during these times. Here are the latest industry updates:
FMCSA Extension Until May 15
The FMCSA has extended the Hours of Service Emergency Declaration until May 15, and expanded it to cover the transportation of liquefied gases for refrigeration or cooling systems.
FMCSA Emergency HOS Declaration
Remember, as it pertains to emergency HOS declarations:
Ensure you and your drivers understand how Federal and State declarations apply to your fleet
Annotate any records related to an exempt trip for log management
Retain all supporting documentation related to the use of the exemption
Ensure documentation is available at the roadside and maintained for the required six-month HOS record retention period.
Questions? We're here to help. Email us at safetyandcompliance@orbcomm.com.
FMCSA provides relief for driver training hit by COVID-19
The FMCSA has announced a waiver to provide relief for driver training impacted by COVID-19.  The regulations will give a three-month waiver to allow some truck drivers to continue to operate under conditions.
Reduction in Freight Volumes
As panic-buying subsides, some operators are reporting sinking load orders and quieter roads than usual for the time of year.
A Deeper Understanding For Drivers
One positive is how the world is rallying around drivers who are keeping food on the shelves. That's the sentiment of US Secretary of Transportation, Elaine Chao, who says: 'so many more people now understand that it's due to truckers and trucking companies that food shelves in a supermarket get stocked, or that gasoline stations are able to sell gasoline," while announcing plans for the DOT to support trucking companies and keep supply chains continuing. Meanwhile, in FreightWaves, the writer takes a look at how this new-found appreciation could continue long after the pandemic has abated.
Trucking in Canada
In Canada, Trucking HR has compiled a list of sources for drivers directly affected by COVID-19. It's available through their website here.
New CDC Guidance for the Greater New York Area
The CDC has issued its statement on Self-Quarantine Guidance for Greater New York City Transportation and Delivery Workers. You can read it in full here.
Coronavirus Acts Offer Aid
For fleets struggling to make payroll or other monthly obligations like debt payments or rent, the massive $2 trillion coronavirus relief act passed by Congress last week could offer some help.
The CARES Act Has Passed: Here Are Some Highlights
This legislation is aimed at providing relief for those negatively impacted by COVID-19. Here are some of the key provisions and what it means for you.
#ThankATrucker
Where we highlight just one of the many stories showing how the transportation industry is going above and beyond. #ThankATrucker…
Here's how Christenson Transportation is showing its gratitude to drivers: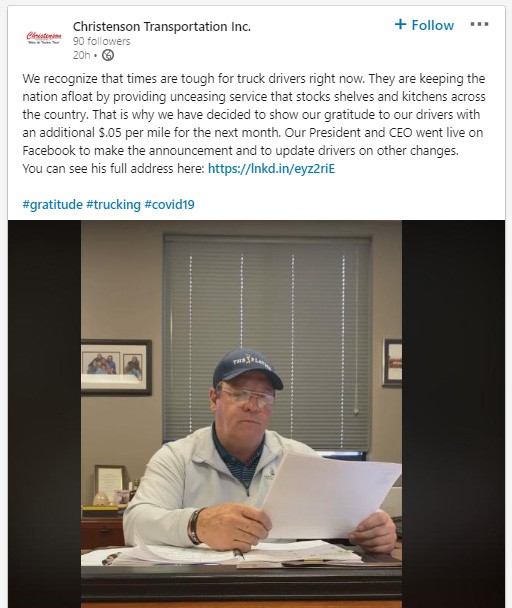 Have your own story to share? Send it to us!
COVID-19 Resources for Transportation
We've  been so happy to hear stories of fleets putting our COVID-19 Visor Card for Truck Drivers to good use, like as part of this safety kit:
You can download the Visor Card, now available in French and Spanish, and find other COVID-19 resources, at https://www.orbcomm.com/en/covid19
The following days and weeks will no doubt present more challenges professionally and personally. Please reach out to our Customer Care Team (800-ORBCOMM; customer.care@orbcomm.com) or your Account Manager for any assistance you may require.