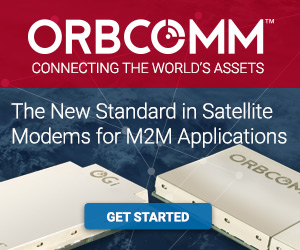 Last year was a transformative time in terms of technology, devices and connectivity for our Internet of Things (IoT) solution providers, and started on the heels of the historic launch of our new OG2 satellites, which have helped us provide unmatched coverage for an even broader set of M2M and IoT applications.
Soon after the launch, we released the completely interchangeable OG2 and OGi satellite modems.The modems provide customers with plug-n-play satellite connectivity using the ORBCOMM VHF or Inmarsat L-band networks. The versatile modems are nearly 50% smaller than a credit card and feature an identical footprint, connectors, power input, programming environment, communication interface and protocols.
On the devices front, 2016 saw the release of several innovative new products, including the cellular-only version of our popular IDP-782 terminal (originally available in dual-mode), ideal for vehicle tracking, driver monitoring and other applications. For heavy equipment, ORBCOMM launched the new PT 7000—a ruggedized, two-way heavy equipment tracking and monitoring device. And we're picking up 2017 right where we left off by announcing that the latest version of our solar-powered GT 1100 is the first LTE-enabled, dual-mode device approved for use on the AT&T and T-Mobile networks.
Furthering our strategy of expanding our geographic reach, last year we increased our footprint in the fast-growing African IoT market. With the acquisition of Skygistics, a long time distribution partner of ORBCOMM subsidiary SkyWave, we gained an established sales base and distribution network of over 250 customers across 22 African nations.
Besides our global footprint, ORBCOMM is also unique in its depth and breadth of IoT connectivity offerings. ORBCOMM's unique partnerships give us access to a wide selection of wireless SIM card options and cost-effective cellular connectivity for a variety of OEM, IoT and M2M applications.
Finally, with last year's introduction of ORBCOMM's Enterprise IoT Toolkit, we now provide every layer of the stack required to develop market-specific M2M and IoT solutions. Covering devices, connectivity, subscriber management, device management, software and application enablement, our toolkit components are available together, or separately, with the added benefit that they are interoperable and come with a single point of contact for support.
With ORBCOMM at the forefront of IoT innovation, it's an exciting time to be heading up our OEM and Solution Provider channel, and I look forward to helping you and your business prosper in 2017.
What moved the needle for your organization in 2016? Please post your comments below, and feel free to contact us anytime to discuss smart IoT technology.