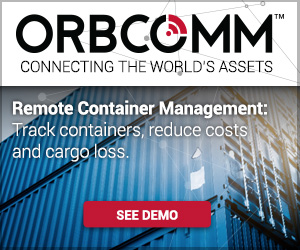 Thanks to innovative telematics, we at ORBCOMM give operators the opportunity to revitalize supply chains and deliver new and innovative ways to increase operational efficiency and meet the challenges of the industry head-on, all with one fully integrated solution.
Our comprehensive transportation offering currently helps fleets monitor more than 600,000 assets across road, rail and sea. Prevent cargo loss with real-time alerts. Seamlessly manage your assets with automatic temperature recording, centralized asset management and door-open or route change alerts. Reduce spoilage with temperature sensors and increase profitability by avoiding costly errors and more.
IANA Intermodal Expo 2019 brings the intermodal freight community together annually with educational sessions, networking and technology showcases. We look forward to seeing you in Long Beach on September 15 – 17.
"ORBCOMM's (intermodal container tracking) solution will play a significant role in improving shipment visibility and enhancing service to our customers." Chris Kravas, Chief Intermodal Officer at Hub Group, Inc.
Join us at IANA Intermodal Expo 2019
September 15-17, 2019
Long Beach California
ORBCOMM Booth 404

What Can I Expect from ORBCOMM?
ORBCOMM delivers the complete picture with end-to-end telematics. See all your data – driver management, temperature monitoring and asset tracking on one platform.
We'll also be showcasing the next-generation in solar-powered technology for dry containers. Join us for a Dialogue Box session on Monday, September 16 at 11 am to find out more. This 15-minute session looks at our new technological developments as we look to integrate cargo sensing and asset tracking technology into a single device to deliver comprehensive visibility, management and control of trailers and intermodal containers virtually anywhere.
The Clock is Ticking for ELDs
With just a few months to go until the final phase of the ELD mandate, is your fleet ready? Truck and driver management solutions are key to compliance for ELD and beyond. We offer customers like Chief Express the most comprehensive, open, and scalable truck telematics solution on the market today.
The Importance of Integrations
We integrate with leading TMS partners too, such as McLeod. Drop-by our booth to find out how our platform and McLeod's LoadMaster work in harmony to reduce load spoilage, improve fuel economy and optimize asset utilization for customers like Mike Tamana Trucking.
Monitoring Every Step of the Cold Chain
We help fleets to monitor their temperature-controlled assets at every step of the complex supply chain journey. Our ruggedized cold chain monitoring solution delivers remote monitoring and temperature control of reefer containers in some of the toughest environments on earth. We enable real-time tracking and two-way temperature control to help carriers and shipping lines increase their ROI.
Container Visibility at Sea
Completing the full spectrum of transport monitoring, ORBCOMM provides remote refrigerated container management at sea. VesselConnect virtually eliminates the need for manual checks at sea with centralized management, delivering information such as reefer temperature, humidity, location and status to help reduce cargo damage, minimize operating costs and keep crews safe.
We look forward to seeing you in booth 404 at IANA Intermodal Expo!