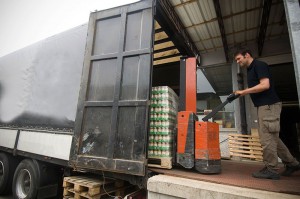 ORBCOMM was on hand at last week's International Foodservice Distributors Association (IFDA)  Solutions conference in Phoenix. The conference generated lots of interesting discussion regarding food safety, cold chain monitoring and compliance, both in the sessions and at our booth:
Some of the highlights included:
Attempts at clarifying the new FDA Food Safety Modernization Act (FSMA) rule set to come into play early next year. It seems there are still some logistical details to be clarified, including the significance and required action with a momentary temperature limit failure as a result of a loading/unloading event, and what this means with respect to safety risks.
A presentation on the risks of not conforming to FSMA (specifically the Sanitary Food Transportation Act), and the dire consequences for a non-compliant carrier.
Lots of examples of new technology being introduced to improve existing operations, such as bar code scanners, high-speed refrigerated doors to minimize temperature fluctuations and heat loss, automated warehouse distribution systems and the buildings that are optimized for this.
A number of road safety technologies, including comprehensive video monitoring of both road conditions and drivers, as well as an impending collision driver alert system based on inter-vehicle Wi-Fi signalling. This is set to become a reality much sooner than one would imagine!
An overview of the new GS1 food tracking initiative, with early adopters Subway and Wendy's outlining just what this means for them, and what it will no doubt mean for the rest of the industry in the near future (hopefully a reduction in the statistic that 1/3 of all produced food is currently being wasted due to spoilage!)
Having never visited or toured the inside of a major distribution center, we were very fortunate to be granted a guided tour of Shamrock Foods' one million square foot facility. Here we got to see the whole food distribution processing flow, from the incoming pallets at the receiving bays, to the autonomous stocking/shelving high-tech cranes, to the location optimized pick and place floor. From there we saw the single conveyor belt that scans, weighs and measures every carton in order to automatically distribute them across the 24 conveyor belts that lead to the loading docks for the outbound trucks. With 6.5 miles of conveyor belts and the throughput to load 30 trucks every 2 hours, this is a very well oiled machine, with every optimization in place to ensure the utmost efficiency.
Up next, you can see ORBCOMM at the Intermodal Europe 2015 (booth #F64) in Hamburg, Germany from Nov. 17 – 19. Going to be there? We'd love to meet with you. Schedule a meeting with us.