Digitalization, automation and efficiency are reshaping the global supply and operation of heavy construction machinery. These core topics dominated the debate at the recent bauma 2019 show in Munich, where ORBCOMM exhibited alongside nearly 4,000 equipment and solutions providers from 63 countries and more than 620,000 visitors from 200 countries. They're all part of a worldwide heavy equipment telematics market expected to grow significantly to reach USD 231.3 billion by 2025 across key industries including construction, mining, and oil and gas.
"Networked construction sites and smart machines, as well as autonomous driving and working: these are not just dreams of the future! The construction equipment industry becomes more and more digital—and with it, the construction site", noted the influential bauma Industry Barometer.
For ORBCOMM, digitalization and automation are key trends driving innovation in our heavy equipment telematics solutions. Top-of-the-line construction equipment of all kinds are now often fitted with telematics hardware that monitors and collects machine data. This 'hard' information now makes it possible to check the machinery's on-the-job performance, fuel consumption and location, inform predictive maintenance, more precisely determine operating costs and manage entire fleets via telematics.
Joint digital understanding is now needed as the industry faces the task of enhancing connectivity, communication and analysis among models made by different producers. Challenges exist when managing a mixed fleet of heavy equipment, manufactured by multiple OEMs, each with its own proprietary telematics solution. To address this particular challenge, ORBCOMM has worked closely with the Association of Equipment Management Professionals (AEMP), which has introduced a new telematics standard, AEMP 2.0/ ISO-15143-3. By embracing this standard, we can more readily support fleets of machines from different equipment manufacturers and continue to facilitate interoperability as a key requirement for users as telematics devices, digital platforms and data eco-systems proliferate.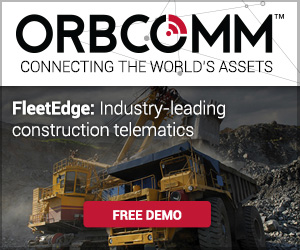 Aside from supporting more efficient life cycle management and ROI on expensive equipment assets, digitalization also facilitates automation efforts to enhance work processes, an increasingly important factor in light of the shortage of skilled workers faced by the construction industry around the world today.
"For instance, the driver of construction equipment today has access to terrain models that can be partially driven autonomously," said Wolfgang Lübberding, Business Unit Manager of the Association of the Construction Industry, Environment and Machine Technology at this year's bauma show.
Construction sites of all types are also becoming more digital in the quest to optimize investment in infrastructure and equipment, boost operational productivity, enhance safety, improve environmental performance and deliver more customer value. This multi-faceted embrace of technology to drive several beneficial outcomes is echoed worldwide across many industry segments, from utilities to agriculture, maritime, fisheries, ports, cities and more.
Digitalization, automation and efficiency —three topics guiding the conversation at bauma 2019 and all at the heart of ORBCOMM's market-leading industrial Internet of Things (IIoT) solutions for remote tracking, monitoring, maintenance and control of heavy equipment assets worldwide. Three topics we look forward to for continued conversation and technology evolution!