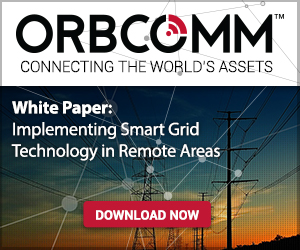 Improving reliability and minimizing service interruptions are two key challenges facing utilities, especially when it comes to energy provisioning in isolated areas. IoT for smart grid delivers 24/7 monitoring of field equipment and infrastructure, alarms, and the remote control of equipment from centralized locations to help optimize operations and improve customer service. Meet the ORBCOMM team at the upcoming DistribuTECH 2020 show in San Antonio as we unveil the latest in IoT technology for energy and water utilities.
This year's show is shaping up to be one of the biggest yet, with thought leaders from around the world who will be sharing their knowledge and problem-solving skills. Visit ORBCOMM at booth 1760 to learn more.
DistribuTECH International
January 28 – 30
Henry B. Gonzalez Convention Center | Halls 1 – 4
ORBCOMM Booth 1760

What Will I hear from ORBCOMM at DistribuTECH?
We know that working with the electrical grid can be unpredictable, especially in isolated areas. Utilities need real-time visibility into the status of field assets and infrastructure to reduce manual processes and quickly address issues. That's where ORBCOMM's smart grid solution comes in. Our system delivers precise, real-time data to utilities, so they can minimize manual intervention, leading to faster decision-making and reducing the frequency and duration of interruptions to the service.
Some benefits include:
Enabling visibility of operations even in remote areas through satellite communications.
Quick and easy installation with no infrastructure required.
Fast and accurate identification of system issues when maintenance is needed.
Durability in extreme weather and natural disasters.
Scalability to extend capabilities into new regions.
Improve the Safety of Personnel on the Road
Poor driving habits can result in an increase in vehicle crashes, putting the lives of workers at risk and exposing utilities to expensive liability. A fleet safety solution helps drivers develop situational awareness, allowing them to identify and correct risky behaviors. ORBCOMM's comprehensive fleet safety solution delivers in-cab voice coaching, compliance with Hours of Service regulations, driver scores, speeding notifications and more.
Take advantage of numerous benefits, such as:
Instant in-cab voice alerts of unsafe driving such as speeding and seatbelt violations.
Automatic notifications to the back office when a vehicle has been involved in a crash.
Driver scorecards to identify those in need of further training.
On-the-road productivity tools for drivers such as customizable electronic checklists.
Optional satellite communications to ensure reliability in remote areas.
Speed by street functionality accurately identifies speeding violations.
The ORBCOMM team is looking forward to the first show of the year. Book a meeting to find out more about ORBCOMM's smart grid and fleet safety solutions.