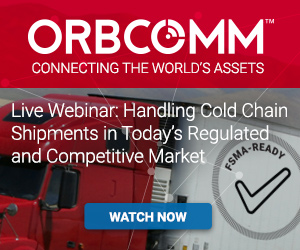 There's been a lot of discussion recently around best practices, emerging technologies and upcoming legislation affecting the food logistics industry. We heard many during October's IFDA Distribution Solutions Conference and our recent Cold Chain webinar hosted by Food Logistics. The US FDA's Food Safety Modernization Act (FSMA), with a compliance deadline set for April 2017, is still very much top-of-mind for anybody involved in the transportation and distribution of perishable foods. As companies look to outline processes and set best practices, here are some points to consider:
Data Accuracy and Integrity a Must
With FSMA fast approaching, food transporters are turning to technology to enable temperature management and compliance in their fleets. However, since the ruling does not specify or standardize on a specific type of tracking device, we expect some issues will arise around inconsistencies in data collection and data integrity. With liability at stake, data collection, storage and delivery will become key to compliance. A system that collects readings directly from a reefer's microprocessor is highly accurate compared to disposable solutions such as data loggers, which can generate contradictory results based a wide range of external factors.
Remote Access to the Reefer
The ability to remotely control a refrigerated trailer also becomes important. With trailer pre-cooling notifications becoming a requirement of the new ruling, enabling dispatch to pre-cool a trailer without driver intervention will not only save time and money, it will minimize potential issues caused by human error. Similarly, when temperature inconsistencies are detected, the ability for dispatch to quickly deploy corrective measures and remotely modify a unit's set temperature will improve efficiency and minimize losses and claims due to spoilage.
Creating a Culture of Safety
Beyond rolling out new processes and technology, FSMA's success will depend largely on the industry's ability to foster a culture around safety. It's not enough for individual companies to roll out minor changes in order to "pass" the compliance test. Carriers, shippers and everyone involved in the food supply chain need to work together to outline best practices and ensure that every aspect of the operation adheres to the highest standards to ensure product integrity as commodities move along the chain.
To watch a replay of our new Cold Chain Webinar, visit www2.orbcomm.com/cold-chain-compliance
For more information on how to prepare for FSMA compliance, visit www.fsmaready.com