I was recently reading an article in the Guardian about the dangers faced by oil workers who work abroad and it provided an interesting perspective from the view of the employees. While the work can be very lucrative, the personal risks are also very high. Energy companies often have to implement sophisticated systems to ensure the security of their operations and the safety of the people.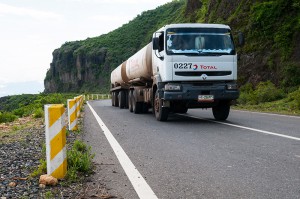 Tullow Oil plc, one of the largest independent oil and gas exploration and production companies in Europe, as part of their Environment, Health and Safety (EHS) plan have many objectives around employee safety and security. One of their objectives is to "Ensure Vehicle Accident Frequency rate is ≤ 1.3 Motor Vehicle Collisions (MVC) per million km driven."
To measure their performance and help ensure the safety of employees, they contracted UK-based Oysta Technology to implement a full fleet management system along with two control centers located in Kenya and the UK to track and monitor the 150 vehicles that are supporting their operations in Kenya.
The solution comprises of dual-mode satellite-cellular devices installed on each of the vehicles. These report their position at a regular schedule to the Oysta security platform at the two control centers. Since the device is equipped with satellite, the operators are able to track the position of the vehicles even when they are in remote areas.
According to Mario Zuccaro, managing director at Oysta Technology, in addition to vehicle position, the solution also monitors driver behaviour, reports mileage driven, fuel usage and if there is an emergency situation (panic button activated).
Geofencing capability allows the system to map out country borders. If the vehicle crosses into neighbouring Somalia and Uganda, the system automatically warns the driver to make their way back.
In the event of an emergency, the system is able to transmit the location of the vehicle to the Oysta Alarm centre and open a two way voice communication channel between the driver and the operator at the control centre. Both control centers can then follow the appropriate and respective emergency response process.
The system has provided many benefits aside from ensuring employees follow corporate health and safety procedures. According to Mario, Tullow Oil is starting to see a reduction in fuel usage, use of vehicles for personal use, driver errors and vehicles travelling outside of country boundaries.
If you monitor fleets remotely, tell us what kind of features you would like to see in your solutions…