The FMCSA has posted a notification to the Federal Registry seeking comment regarding a proposed update and clarification of the use of Yard Move. When the FMCSA published the ELD Mandate it did not specifically define a Yard or the proper use of the Yard Move special indicator within the ELD Mandate. Instead, it deferred to HOS regulations under 395.1 Subpart A to address Yard Moves. Since that time only minimal guidance has been provided by way of 395.2 Definitions Guidance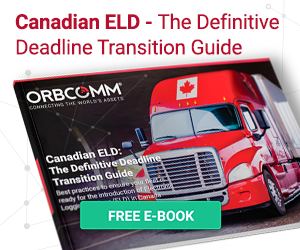 The FMCSA current proposal is aimed at broadening the existing guidance to provide examples of what qualifies for a Yard Move and what does not. This update would be posted as an update to Question 9 of the 395.2 Definition Guidance.
The posting as well as the link to provide comment can be found at regulations.gov.
ORBCOMM will be reviewing and will formulate relevant comments to the proposal. We also encourage customers to provide any relevant comments to the FMCSA regarding this topic. Should you wish to comment, we also encourage you to copy your ORBCOMM Account Manager, and copy me at eld@orbcomm.com, so that we can consider your feedback in context of improving the product to make it serve your needs even better in the future.