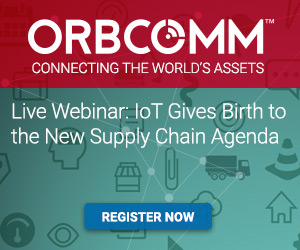 These are interesting and challenging times for those involved in supply chain logistics, fleet management, inventory/warehousing, manufacturing and more. New, cutting-edge applications that take advantage of Internet of Things (IoT), RFID tracking and sensor-based technologies are being used to improve supply chain visibility, ROI, operational efficiency and manage risk.
But with the learning curve so steep, the data streams so enormous and the integrations so complex, where do you start? Join ORBCOMM at RFID Journal LIVE in Orlando to discuss solutions to these challenges and more…
RFID Journal LIVE!
May 3 – 5, 2016
Orange County Convention Center
Orlando, Florida
ORBCOMM Booth #436
Schedule a Meeting
Looking forward to meeting with InSync Software at the show? ORBCOMM acquired InSync last year, and continues to offer the same innovative IoT-based solutions you've come to expect related to:
Transportation: RFID-based tracking and monitoring of cargo. Improve fleet efficiency with real-time location and status information.
Supply Chain: Streamline the supply chain and effectively manage inventory every step of the way.
Manufacturing: Track high-value equipment and tools for improved operational efficiency.
Inventory: Streamline and reduce costs of inventory, warehouse and yard management operations.
Join ORBCOMM at booth #436:
Live Webinar this Thursday!
IoT Gives Birth to the New Supply Chain Agenda
April 28, 2016, 11:00 AM EST
This free webinar will highlight IoT and M2M case studies that stress ROI and other KPI's to illustrate the state-of-the art in supply chain management.
Register Now: