In a world where 100% network uptime is not only expected, but critical for businesses, having a safeguard to your primary connection in place is more important than ever before. Network outages can lead to potential loss of revenue, damage to your brand and customer satisfaction, increased risks associated with security and fraud, halting of business operations, and inaccessibility to your network and data.
The good news is that you can bring peace of mind to network downtime with ORBCOMM Enterprise Connect. Join us at Cisco Live 2016 in Las Vegas for a live wireless failover demo and learn how to keep your business and revenue rolling, while mitigating risks to your security and customer satisfaction, when the network fails.
Cisco Live US 2016
Exhibit: July 11-13, 2016
Mandalay Bay Convention Resort
Las Vegas, Nevada
ORBCOMM Booth #951 (Schedule Meeting)
Not registered yet?
Register Now with Discount Code "WoSDiscount"
We'll be showcasing the world's only end-to-end Cisco-Verizon 4G LTE failover solution featuring:
Automatic 4G LTE failover for business continuity
Out-of-band management
Secure IoT provisioning and management
Rapid off-the-shelf deployment
Come meet with our wireless experts at Booth #951 to discover how to avoid loss of revenue and mitigate risk in the event of a network outage.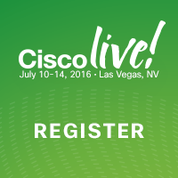 To learn more about wireless failover, business continuity and more, join ORBCOMM at Cisco Live, July 10-14, 2016 in Las Vegas. We'll be at booth 951 demonstrating ORBCOMM Enterprise Connect—the only commercially available, off-the-shelf cloud device management tool for Cisco 4G/LTE ISR routers. For more information, including a Discount Code for Cisco Live, visit http://www2.orbcomm.com/cisco