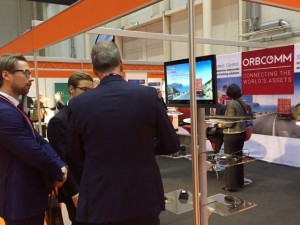 Intermodal Europe 2015 in Hamburg, Germany was without a doubt a great success for all involved. The three day show that attracted shippers, shipping lines, container professionals and those involved in the intermodal supply chain from all over the world was a busy event.
For ORBCOMM the show was an opportunity for us to showcase our new combined portfolio of products for tracking, and monitoring refrigerated and dry containers and trailers across the supply chain. While our acquisition of  WAM Technologies that added 290,000 Maersk Line's refrigerated intermodal containers to our subscriber count was part of the buzz, it was also our trailer solutions that were catching people's eyes.
For those who are new to the WAM portfolio, ORBCOMM now offers a packaged solution for tracking, monitoring and controlling reefer (refrigerated) containers. The permanent install variant is mounted in the cavity of the reefer controller compartment and connected to the microcontroller which enables the user to have access to the location of the containers as well as all the data available through the controller.
When combined with the application, users can receive regular GPS updates, as well as the ability to clear reefer alarms, change set point temperatures and have easy access to historical data for claims.
The ROI (return on investment) for monitoring refrigerated containers is an easy calculation. Remote monitoring enables companies to reduce ground resources to monitor reefer operations. It also enables companies to increase their cold-chain traceability, reduce losses due to reefer malfunction or improper set point temperature and ensure enough fuel is available for proper reefer function. (Want to learn more? Download our latest white paper!)
On the trailer side, ORBCOMM's GT 1100 was the star. People liked the integrated solar panel as well as the hermetically sealed enclosure that reduces damage due to water ingress. For those who preferred to install their tracking terminals inside the trailer/container, the GT 2300 device that is being deployed by the Hub Group was the product of choice.
While the show focused on intermodal transport, we also met many companies that were concerned about cold chain compliance for the European market. For them we had the option of Euroscan X3 temperature recorder for those looking for GAMP5 compliance or the Euroscan MX2 is a HACCP-compliant temperature recorder. With the upcoming FSMA regulations in the United States coming into effect soon, we expect these devices to play a bigger role in our deployments in North America.
With the push to increase visibility and reduce in-transit costs we expect that we will be having similar conversations with users when we attend Intermodal Asia 2016 in Shanghai, China from March 22-24. But if you have a project that you want to discuss before that, please feel free to contact us.