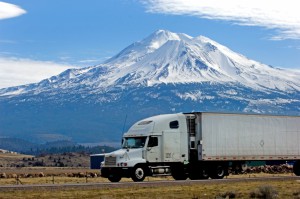 Did you know that food distribution represents an enormous part of the US economy, representing over $235B in sales in 2014? How about that 47% of a typical American family's food spend is on 'food away from home', and that 276 million 'meals away from home' are consumed every day (ie. nearly one meal for every American)? These staggering statistics highlight the necessity of having a well-oiled, well-managed distribution chain.
As with many industries these days, the margins associated with food distribution are very small and inefficiencies along the entire supply chain must be reduced in order for companies to survive and remain competitive. The food distribution supply chain includes tracking and delivery of goods within warehouses, between distributors, manufacturers and consumers, and is a complex system, with each component having seemingly developed their own optimizations.
Warehouses have become more efficient and cost effective through novel introductions of multi-temperature-zoned docks (optimized cooling/energy consumption), voice picking of products (increased productivity through freeing hands) and statistically considered placements of food items (shortened preparation time for delivery).
Transporting goods has become more efficient in some similar ways, with multi-temperature-zoned refrigerated units (optimized cooling/energy consumption), dynamic computerized routing of transportation fleets (decreased fuel consumption and driver hours), and effective logistical management and coordination between empty/full trailers (decreased fuel consumption and increased utilization time).
While these efficiency initiatives have been mainly driven by economic reasons, the Food Safety Modernization Act (FSMA) will soon drive more initiatives based around food safety. While most of FSMA's concerns are centered around handling and storage between facilities, perhaps the most variable element is the in-between transportation aspect. Monitoring conditions within a travelling temperature controlled refrigerated unit that is exposed to a myriad of external environmental conditions can ensure that appropriate actions be taken should the perishable food be threatened with becoming unsafe.
ORBCOMM is the industry's foremost authority on refrigerated transportation monitoring, providing temperature-tracked safe food transportation for most of the existing market installations today. Come and see our offerings at this week's IFDA Distribution Solutions Conference (booth #323) in Phoenix, AZ! Going to be there? We'd love to meet with you. Schedule a meeting with us.