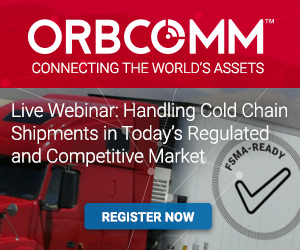 Carriers and shippers of temperature-controlled cargo operate in an increasingly tough compliance environment, as governments and producers in the U.S. and around the world seek to safeguard people from the risks of contaminated, spoiled and counterfeit goods.
Helping our transportation clients meet these demands continues to be a top priority for us at ORBCOMM, and this month we're sharing our expertise on these issues in a couple of different ways.
First, you can visit us in person, Oct. 17 – 19 at the IFDA Distribution Solutions Conference in Tampa, Florida (ORBCOMM booth 241) to discover the latest news regarding FSMA compliance and our cold chain management solution. Be sure to follow @ORBCOMM_Inc, @IFDA and hashtag #IFDADSC on Twitter for the latest updates from the show floor.
Second, be sure to register for our Live Cold Chain Webinar taking place October 26. Hosted by Food Logistics and featuring cold chain experts from ORBCOMM and across the industry, this webinar will seek to answer some of the toughest questions facing transporters today…
Live Cold Chain Webinar: Handling Temperature-Controlled Shipments in a Competitive and Regulated Environment
Wed., October 26, 2016, 12:00 PM CDT
Hosted By: Food Logistics
Speakers:
Chris Kalinski
Vice President, Food Safety and Pharmaceutical Solutions
ORBCOMM
John Haggerty
Vice President, Business Development
Burris Logistics
Bruce Stubbs
Director of Supply Chain Marketing
Honeywell