The volume of reported cargo theft in the United States averaged 49 per month in the US in 2018. According to the annual SensiGuard Supply Chain Intelligence Center (SCIC) report, there were a recorded 592 cargo thefts with the highest number at 171 in Q4 at an average value of $142,342.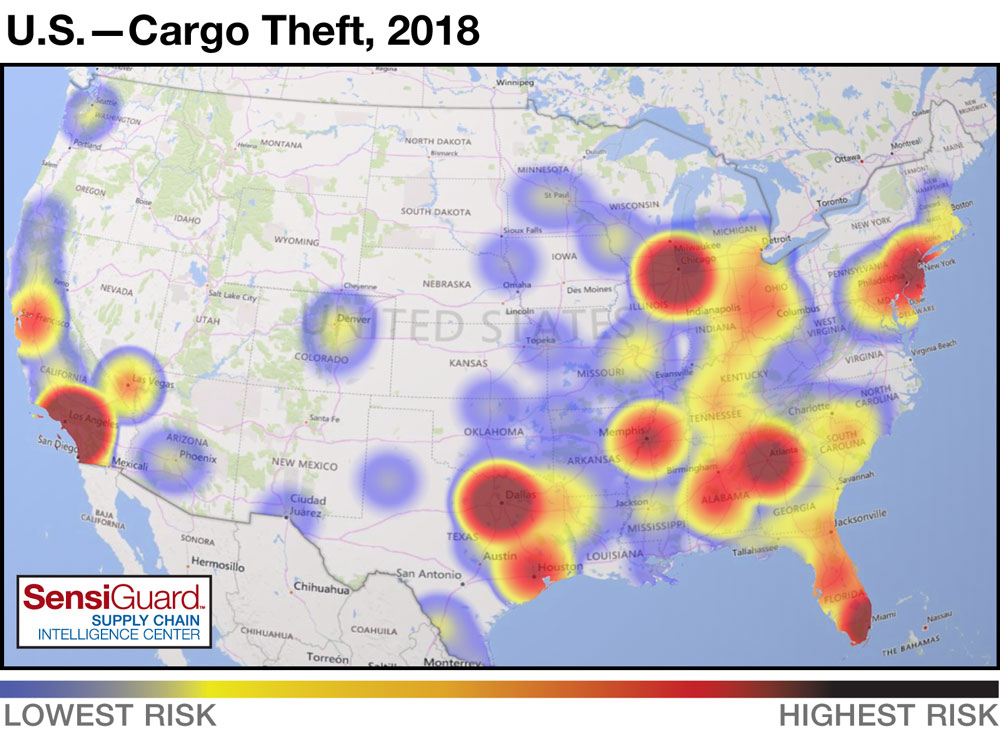 On the SCIC 5-point scale of low to moderate, elevated, high and severe, the United States is ranked as a 'high' level threat for cargo thefts.
Although the volume of reported cargo thefts in the United States dropped 19% from 2017 to 2018 and total average value dropped 2%, thieves are evolving their methods to obtain their desired merchandise and avoid capture. Despite the decline, evidence exists to support a strong danger will persist.
Organized criminals form part of an established network of fences and buyers who place orders for specific merchandise for thieves to target. Criminal networks also include contacts who alert thieves to inside information about the contents, values, security measures and destinations of loads.
"Thieves in the U.S. have long utilized the 'risk vs reward' calculation when targeting cargo. And in so doing, they have shifted focus to other methods and products that provide a lesser chance of capture or disruption, thereby reducing their risk," the report states. "This can be seen in the continued increase of reported mixed retail loads, or less than truckload (LTL) thefts. These shipments are typically a mix of product destined for a brick and mortar retail store."
Reported LTL thefts are categorized as pilferage and have seen a dramatic 198% increase since 2014, breaking records in 2017 and again in 2018. LTL shipments are considered to be more vulnerable than full truckload shipments, as they are often less closely guarded.
SensiGuard says LTLs are frequently targeted by thieves as they generally have less security in place than high-value, single-owner shipments. Losses to any one owner of goods on an LTL shipment may even be too low to trigger a police report or insurance claim, allowing the criminals to continue operating at relatively lower risk.
Cargo Theft by Category, Value and Location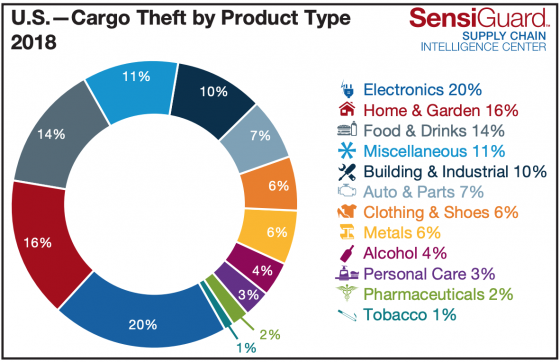 2018 saw electronics take over the top spot for most stolen product type for the first time since 2009. Recording 20% of the 2018 total of all stolen goods, electronics displaced food and drinks and home and garden products with a rise of 33% from 2017.
The usual front runners,food and drinks and home and garden, accounted for 14% and 16% of total stolen goods in 2018 respectively, although the average value of stolen shipments in 2018 was considerably higher in some other categories. Personal care tops that list, with an average value of $544,935 stolen per shipment. Next up are electronics ($297,332), tobacco($208,302) and clothing and shoes($171,031). Way down on the list in terms of average values stolen are food and drinks and home and garden at $67,374 and $65,998 respectively.
California accounted for 26% of total thefts in 2018 and was again the frontrunner for states with the most reported cargo theft occurrences. Texas (15%), Florida (11%), Illinois (11%) and Georgia (8%) rounded out the top five. In terms of thefts by category, 90% of reported in-transit thefts were from unattended and stationary loads.
While cargo theft will continue to remain a strong threat to the industry, the benefits of technology in the fight against it are becoming visible as theft rates have continued on a downward trend since 2009. ORBCOMM's trailer telematics are used in part to detect and deter thefts and enable the recovery of stolen shipments. Unauthorized moves, unscheduled stops and unauthorized door openings outside a geofence, for instance, can inform of a theft in progress and are indicated in real-time by configurable alerts. Chances of recovering a stolen load are also increased through live GPS location data.
ORBCOMM has been a pioneer in the industry, servicing such companies as Walmart, Hub Group and Christenson with our comprehensive suite of end-to-end solutions – from software platforms to tracking devices to sensors to support.
Contact us today for more information on how ORBCOMM integrated transportation telematics solutions can enhance the way you do business.
As Product Marketing Manager at ORBCOMM, Craig Bond is responsible for driving marketing initiatives for industry-leading satellite/cellular products and services. He has a diverse range of experience in global business strategy, product launches, market intelligence, brand communications and product positioning.