Looking to improve your fuel efficiency? Can telematics boost your bottom line? Do telematics assist with driver retention? How can companies most effectively comply with ELD regulations?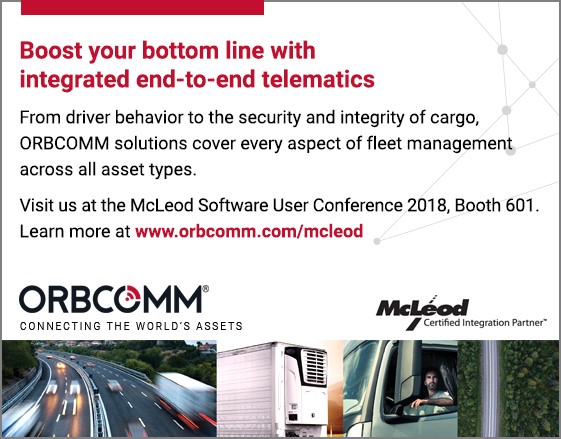 Visit ORBCOMM at McLeod Software User Conference 2018 for the answers to these questions and more. We'll be there to showcase our two-way asset tracking and control capabilities for complete transportation management across the supply chain as well as our truck management solution for ELD compliance and hours of service management – plus exciting new enhancements to our McLeod integration.
As Diamond sponsors at this year's event, we will be exhibiting and delivering live demos. The show is one of the industry's leading events, bringing together thought leaders from across the transportation industry.
McLeod Software User Conference 2018
September 30 – October 2
Birmingham-Jefferson Convention Complex, Birmingham, Alabama
ORBCOMM Booth 601

Recent months have seen plenty of upheaval for carriers and shippers including the hard deadline for ELDs coming into effect in April, fuel prices spiking again and again and storms wreaking havoc with supply chains across North America.
Be sure to visit ORBCOMM at the show to learn more about our robust hardware and smart software solutions that put your drivers and fleets head and shoulders above the rest.
What will I hear from ORBCOMM?
The conference features an extensive showcase of fleet products and services and draws thousands of transportation professionals from all over North America. We are looking forward to sharing some detailed industry insights in Birmingham and introducing you to the GT 1210 and GT 1020.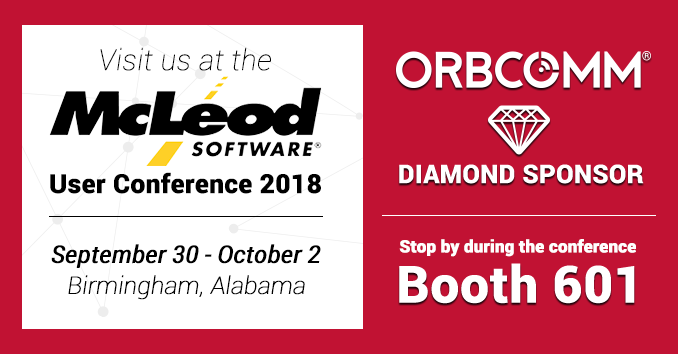 Our new GT 1210 all-in-one asset tracking device with integrated cargo sensor delivers advanced visibility, tracking and control of trailers and intermodal containers virtually anywhere. Featuring the industry's simplest and quickest installation, the GT 1210 can be up and running with no asset downtime. Its solar panels allow this rugged device to last for up to 10 years with no battery charges or maintenance, while delivering everything customers expect from a robust tracking solution to improve operational efficiency, increase profitability and enhance customer service.
The GT 1020 is a compact and versatile asset tracking device, designed to easily fit a wide range of applications across various areas including heavy equipment, maritime, supply chain and transportation. It enables remote monitoring of fixed and mobile assets, delivering actionable data to ensure rich visibility of operations and better performing business planning. It's both ruggedized and easy to install, and is part of a comprehensive solution that includes sensor technology, software applications and global LTE communications with APIs for ease of integration with 3rd party platforms.
For those not going to the show, simply visit www.orbcomm.com/mcleod to learn how McLeod's integration with ORBCOMM provides carriers a centralized view of asset location as well as the ability to monitor critical cargo temperatures and sensor readings, receive alarm events and prevent spoilage claims.