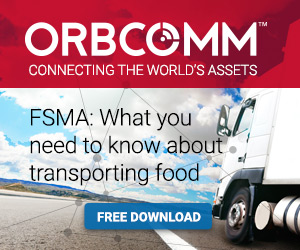 The FDA Food Safety Modernization Act (FSMA) is the most sweeping reform of U.S. food safety laws in more than 70 years. It aims to assure the safety of food throughout the supply chain through the introduction of new requirements to food manufacturers, processors, transporters and distributors.
Key for food transporters among the seven new regulations is the Sanitary Transportation of Human and Animal Food (sometimes referred to as SFTA – the Sanitary Food Transport Act), which defines requirements around…
Temperature control/tracking
Cleanliness
Temperature certification/data exchange
Training
Data Retention
Not sure how your business will be impacted, or even where to start? ORBCOMM has put together the Who, What, Why and When for FSMA as it pertains to transporting food, on the all new FSMAready.com. You can also download the Simplified Guide to the Food Safety Modernization Act: What You Need to Know About Transporting Food.
Visit the new website today to download the guide, learn how to comply, and pick up other FSMA-related articles and resources. You can also sign up to receive future FSMA checklists and other resources via email as we make them available.
Have questions about FSMA compliance? Email fsma@orbcomm.com