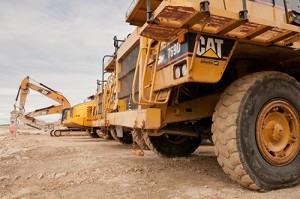 Last week ORBCOMM participated at the INTERMAT 2015 exhibition for what is arguably one of the biggest international exhibitions for the construction equipment and machinery industry.
So what was the buzz?  From our perspective, much of the conversation focussed on the drive to do more, faster and more accurately than ever before.  It was apparent that heavy equipment telematics and machine control is gaining momentum as companies see the value in having 24/7 real-time visibility of their entire fleet.  Not only are the large companies faced with the reality of equipment control and monitoring, but small to mid-size companies with mixed fleets are also challenged to make their operations more efficient and profitable.
Companies are looking at how best to monitor progress on site and deal with any equipment issues that could cause delays in projects and lost revenue. With satellite and cellular connectivity providing access to real-time information, the capacity to generate reports that provide details on engine hours, vehicle speed, location and condition allow companies to use this data flow to better manage maintenance, minimize the downtime, allocate resources and protect equipment. Providing companies, particularly those that operate in remote rural areas, with fewer gaps in their view of equipment data will ultimately drive efficiency and profit.
As the power and capacity of heavy equipment evolves, telematics capabilities and need evolves with it.  At ORBCOMM we are committed to supporting our heavy equipment partners with the robust telematics solutions that turn data into knowledge and ultimately into value for their business operation.