It can be hard to keep track of all the changes the industry is facing now. Making sure drivers are prepared for AOBRD to ELD, keeping up with new regulations and compliance and facing the growing concerns around driver acquisition and retention are all hot topics. We are happy to be back once again as at McLeod Software User Conference in August and we're looking forward to showcasing our two-way asset-tracking capabilities and complete transportation management solutions.
ELD: The Big Switch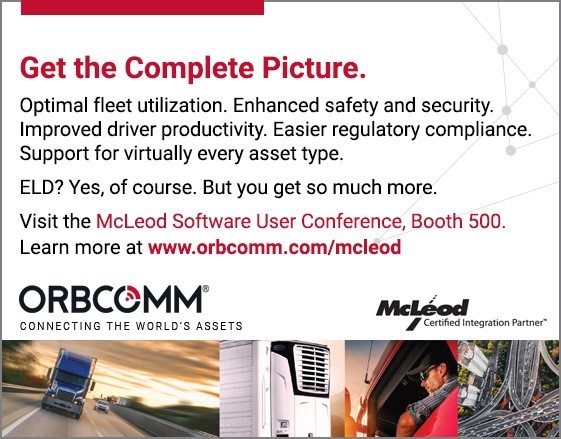 ELD is a hot topic on everyone's lips, as the countdown continues to the December deadline. In our recent survey, 75% of fleets are still using AOBRDs with just a few months to go until the FMCSA's implementation plan is complete. Using ELDs goes far beyond simply putting a new device in the cab. There is training, policy, documentation and implementation to consider. We'll be able to go through the whole process step-by-step on the floor in Denver. Be sure to join us and Dave Heller from the TCA for one of our breakout sessions, on August 27th where we'll be discussing how truck fleets can migrate easily from AOBRDs to ELDs and efficiently with minimal disruption. It's one of three breakout sessions we'll be taking part in throughout the conference. Join us for our other breakout sessions on driver workflow with McLeod LoadMaster and our product showcase. Some of the other concerns we hear from customers include changes to regulations and compliance, solving the problems of driver acquisition and retention, how are companies keeping drivers happy and how are detention times are continuing to impact business? It all boils down to boosting the bottom line and that's where telematics comes in. In today's demanding industry environment, carrier expectations are increasing, and providers are being called to go above and beyond. We're here to help with that.
McLeod Software User Conference 2019
August 25 – 27
Gaylord Rockies Resort and Convention Center, Denver, CO
ORBCOMM Booth 500

What Can I Expect to Hear From ORBCOMM?
The conference is a great opportunity to showcase and demo the depth and breadth of complete transportation management solutions that we offer to transportation professionals throughout North America. Get the full picture with end-to-end telematics.
Truck and Driver Management
With less than five months to go until the ELD mandate deadline, ensure your entire fleet is ready for the AOBRD to ELD switch and fully compliant with US FMCSA Hours of Service rules and Canadian working hours rules. Drop-by our booth find out more about the most comprehensive, open, and scalable truck telematic solution on the market today.
We'll also be showcasing how ORBCOMM telematics solutions fully integrate into McLeod LoadMaster. Does your fleet struggle with cold chain issues that result in spoilage? One of the ways to stop it is with two-way monitoring and control integrated with McLeod LoadMaster. Successful companies like Mike Tamana Trucking know and rely on the ORBCOMM/McLeod solution for its business operations and to improve efficiency.
Our solutions are designed and built for the industry. We know what's important for our customers. For example, the GT 1210, next-generation, all-in-one tracking device with integrated cargo sensor delivers power remote asset management and cargo detection. Improve asset utilization by gaining complete visibility of dry trailers and intermodal containers. Built on years of experience in the transportation industry, the feature-rich GT 1210 monitors your assets virtually anywhere.
With over 25 years of leadership in the industry, why not arrange a meeting now to talk to us about how we can help you. To find out more, visit www.orbcomm.com/mcleod. If you're going to be at McLeod User Conference in Denver, drop-by our booth or schedule a meeting in advance here.