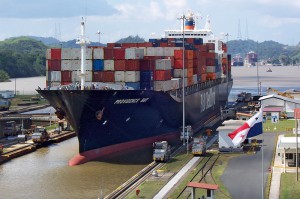 AIS (Automatic Identification System) was first developed as a means to provide collision avoidance between nearby vessels. Any vessel larger than a certain size is required to transmit information such as speed, direction and position in order to provide situational awareness to all vessels receiving the data.
In the past, access to AIS data was only accessible to a small circle of vessels around the transmitting ship—the information was never relayed beyond this area. Eventually ports included AIS receivers in order to collect AIS information to manage near-shore activity. Similar to many basic tracking applications, all this provided was basic "dots on a map" functionality.
Basic tracking functionality was once a game changer for businesses, providing value to owners by informing them where their assets, such as trucks and vessels, were located. More recently companies have been able to derive additional value out of tracking applications by correlating data with other sources. In commercial vehicle fleet management you may see basic GPS position data cross-referenced with load information, dynamic routing information based on local traffic patterns, or correlating truck distances travelled and the next expected preventative maintenance tire change or service.
In much the same way, AIS is now providing the ability for one of the world's the largest ports to identify and manage the many risks posed by ships entering its jurisdiction. By cross-referencing AIS data of port-registered ships, the port (using Pole Star's PurpleTRAC service) can verify that the ship has not previously entered any blacklisted ports and sanctioned countries. An additional recent benefit has been the ability to screen ships that have docked in countries hit by Ebola, alerting port crews to be extra cautious when dealing with them.
AIS offers other value-add capabilities including the ability to observe ships taking illegal shortcuts through protected environments and catching illegal fishing vessels. What do you think is next in terms of extending the value of AIS?