VMS for SOS: Satellite-based Vessel Monitoring System Keeps Crews Safe and Connected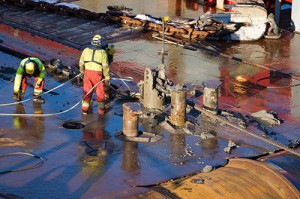 A crew member from a Mexican shrimping boat was able to receive timely medical attention last year, following a fall that left him with severe head trauma while working aboard the ship. Fast response was made possible by a vessel monitoring system (VMS) that sends periodic location reports to a control center and S.O.S. alerts when the emergency button on the vessel is activated.
A 2007 regulation requires commercial fishing vessels in Mexico with inboard motors superior to 80HP to include a satellite VMS solution that periodically communicates the boat's location and travel path. The regulation applies to approximately 1,100 boats that operate in federal waters of the Pacific Ocean, as well as 950 boats that fish in the Gulf of Mexico.The legislation is part of a greater initiative by the Mexican government that seeks to contribute to a sustainable use of fisheries and marine resources through greater control of the operations of commercial fishing vessels.
To ensure regulatory compliance, Mexican fishing vessels depend on a satellite monitoring solution developed by Astrum Satelital, a local company that specializes in satellite tracking and data transmission solutions for mobile assets.  Astrum's solution relies on ORBCOMM's IsatData Pro satellite devices and network services to provide reliable, always-on ship-to-shore and shore-to-ship connectivity, regardless of a vessel's location or onboard power capability.
Delivering much more data than other low-data rate satellite services, the bi-directional IsatData Pro service supports complex applications that enable the exchange of forms, e-mails and files with shore systems as well as remote updates for satellite devices—all at very competitive rates and with the availability of flexible data plans.
Satellite communications are used today to enable reliable communications, improve overall efficiency in fishing operations, ensure compliance with local regulations and improve the safety of vessels and crews at sea, among other benefits. Learn more about satellite-based vessel tracking solutions.
With over 15 years of marketing experience at companies big and small, Lina Paerez leads ORBCOMM's global marketing team, driving key positioning strategies, product launches, demand generation and brand awareness.

Get started with ORBCOMM
Digitalization is transforming industrial operations around the globe. Learn how ORBCOMM solutions can optimize yours.
Get a Tailored Quote